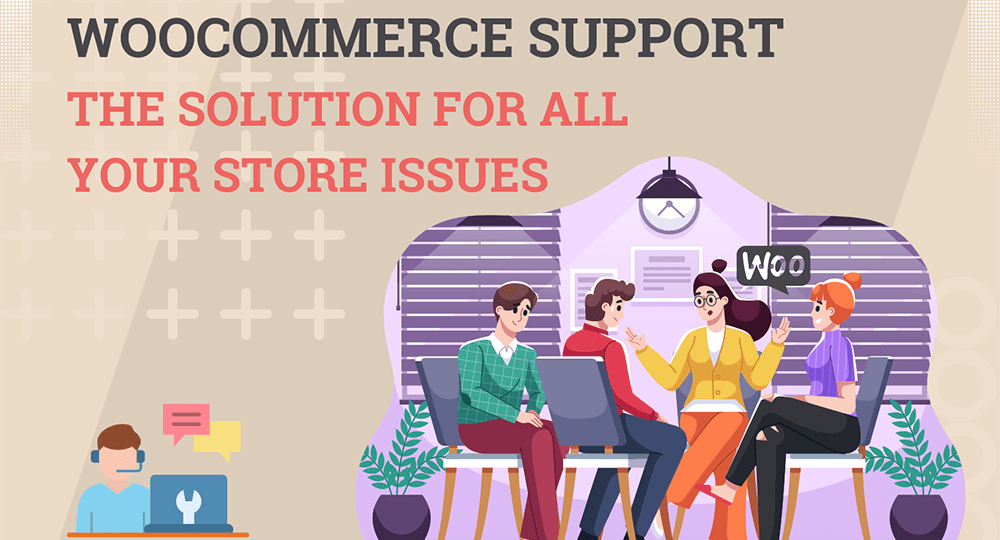 If you are planning to open your online eCommerce store on WooCommerce, that's a great decision! Simply because WooCommerce is among the most popular platform for eCommerce companies. Having said that, it's not easy to start an online business. You can run into hundreds of hurdles and troubles.
No worries, WooCommerce Support is here to help. Here's everything you need to know about WooCommerce support services – that can help you get started.
All  About WooCommerce
As an open-source platform for website creators, WordPress is the most popular platform with 43% of the market share. As a WordPress plugin for eCommerce sites, WooCommerce is also popular with 8.8% of the market share. It is a customizable, e-Commerce plugin developed on WordPress.
What makes WooCommerce popular? With this plugin, you can design and create an eCommerce store from scratch (without writing any code). Further, you can also use this free plugin to design eCommerce sites for your customers (according to their business needs).
Besides being easy to install and configure, as a registered user you can get the best WooCommerce support services.. What's even better is that these online services are available 24/7.
But first, let us help you understand why you need a WooCommerce support system in the first place.
Why do you need WooCommerce support?
You can face challenges even when you use the easiest and most user-friendly software tool, The same is true for the WooCommerce plugin. If you are designing your WooCommerce store, there are times when you may get stuck with some problem and might need help. There exists an extensive WooCommerce customer service to help you with all your issues related to the platform.
In another instance, if you are a small agency providing WordPress-related services, your customers might also need access to the WooCommerce support forum. Good customer service ensures that queries of the customers are well taken care of.  In addition, you can get relevant answers from the online WooCommerce community.
Where can you get the best WooCommerce support services? Here are 10 of the best WooCommerce support platforms that are cost-effective and can solve your WooCommerce-related issues:
WooCommerce Community

This is probably the best way to obtain WooCommerce support for any product-related issues. Developed by WordPress, this online community provides answers to common queries posted by WordPress and WooCommerce users.  WooCommerce Community supports the following categories of community users:

WooCommerce WordPress community
WooCommerce Slack community

Let's discuss each of these communities in detail –

WooCommerce WordPress Community

This community provides WordPress support to its users, where they can post queries related to various plugins including WooCommerce. You can access this community through the WordPress forum. You can go through the list of posted queries and responses available on this community platform. Most of the answers are provided by regular WooCommerce users or by experienced professionals. Additionally, you can start your query thread (if you don't find any responses to your particular issue or query). Once you have posted your query, you need to wait for a WooCommerce community user to respond to it. You can also choose the responses to be sent to your email address.

WooCommerce Slack Community

Slack is a popular collaboration tool that features online chat rooms – where business users can post queries and receive answers. The WooCommerce Slack community is free to join and has over a million WooCommerce users. You can join the WooCommerce Slack community by adding your email address.

WooCommerce Official Support

This is the official WooCommerce website where you can find a host of valuable resources regarding WordPress WooCommerce support. Some of these resources include blogs, product documentation, and online meetups.

Here is a brief description of the type of support-related resources you can access on this website:

Blogs offer good solutions that can troubleshoot your WooCommerce issues. Some of the popular blogs include topics like "how to make online sales," marketing strategies, and customer success stories.
Documentation where you can search for step-by-step product guides, learning tutorials, and other reference articles.
Support where you take WooCommerce-related help from other registered members.

WooCommerce Reddit Forum

With over a million users, Reddit is a popular platform where people with similar interests can interact with each other. As a WooCommerce user, you can also find your community page where you can post and receive answers to your technical queries.

On the WooCommerce Reddit forum, you can have access to a host of WooCommerce-related posts and answers provided by basic WooCommerce users and professional experts. Reddit is a secure and reliable forum, which does not contain any promotional posts. You can also access the official WooCommerce documentation, support forum, and recent blogs from this forum page.

WooCommerce Facebook Groups

With over 48,000 members, WooCommerce Facebook is another popular online community that has many website owners, WooCommerce developers, and eCommerce enthusiasts. You can use this Facebook page to –

Connect with other community members.
Share innovative ideas about WooCommerce.
Provide solutions to posted queries and issues.
Obtain advanced knowledge about the WooCommerce platform.

Managed and run by WooCommerce users, you can use this platform to share additional reference links and opportunities in this domain. New users can join this online community for free – and at any time. This group does not permit advertising or promotion of any particular WooCommerce store or service.

Quora

Quora is one of the largest and active question-and-answer platform of the digital world. Free to use, this online community is visited by different professionals, website developers, and WooCommerce users. For accessing the WooCommerce page on Quora, you need to first register and then sign into your account.

You can use the provided search functionality to view answers to your search query. Alternatively, you can post a search query. Here are a few reasons why you should join Quora:

You can submit or receive answers to your queries directly on the platform.
You can showcase your WooCommerce expertise and gain professional trust.
You can also share or promote your WooCommerce store on this platform.

WooCommerce Github

Github is among the largest open-source platforms for software developers and professionals. This development platform is frequented by millions of programmers and software development companies to share their ideas or get answers to common development-related problems.

WooCommerce Github also serves as an official repository where you can share WooCommerce code, WooCommerce plugins, and website files with customers or other users. From this page, you can also post your queries or view solutions to various WooCommerce-related issues. You can also view the "Discussions" tab to view all discussions on major topics – or request comments on a new topic.

WP Swings Support

This is among the best WooCommerce help forums with an excellent rating for customer satisfaction. WP Swings is also rated among the best WooCommerce extensions. Here are the WooCommerce services that they provide:

WooCommerce store setup and development – to guide you on how to install and set up your WooCommerce store.
WooCommerce theme development and design – to help you with the best WordPress themes and templates that are SEO-friendly and customized.
WooCommerce security and maintenance – to keep you updated on new security-related updates and WooCommerce extensions.
WooCommerce store migration – to guide you on migrating your online store from other eCommerce platforms to WooCommerce.
WooCommerce custom plugin development – to help you add custom plugins and extensions to your WooCommerce site.
WooCommerce API integration – to receive guidance about third-party integrations from WooCommerce experts.

Stack Overflow

Stack Overflow is another open and free online community for web and application developers. On this online community, WooCommerce users can get all the questions and relevant answers to coding-related queries. User posting questions can also "upvote" the most relevant answers.

With Stack Overflow, you can also get WooCommerce help if you are planning to create your code snippets for your WooCommerce site. To use Stack Overflow, all you need to do is register your account and then log into your account. Once there, you can either search for queries – or post your questions. You can also add relevant tags to your questions to get quick answers from the community users.

WP Buffs

If you are looking for unlimited WooCommerce support services, then WP Buffs is the best choice. With its 24/7 website management and support services, this is the largest online platform for WordPress agencies and freelancers. WP Buffs has a team of WooCommerce experts that can provide the best support with blogs, online tutorials, and videos.

Here are a few of the services that it offers:

24/7 WordPress website changes and edits
Weekly updates about the WordPress site
24/7 customer support
WordPress website backups
Website speed optimization
Optimizing WordPress site for mobile devices

Additionally, this website provides a WooCommerce support solution for tackling any issues with plugins. The WP Buffs platform also provides help with any problems with WooCommerce extensions.

Local WooCommerce Meetups

Thanks to its global popularity, WooCommerce users are arranging face-to-face meetups around the world. This comprises around 144 groups with nearly 50,000 members. You can use Local WooCommerce Meetups to find the next meetup event occurring close to your current location.

Once you have found the local meetup, you can join the community of users and plan for the next meeting. With these meetups, you can:

Improve your understanding and learning about WordPress and WooCommerce platforms.
Improve your WooCommerce development skills.
Get relevant answers to your questions from qualified WooCommerce professionals.

Additionally, you can become a meetup organizer with this platform – and create your community of local WooCommerce users.
Conclusion
To create a WooCommerce site or keep it running smoothly, website owners always need the help and support of professional experts. WooCommerce support is the best available solution to any website problem or coding-related query.
We have discussed the 10 best WooCommerce support platforms that are best equipped to resolve your WooCommerce issues. We hope that you have found this blog useful and informative.
Do you still have any unresolved WooCommerce-related questions? Flipper Code is here to answer your query. With our WooCommerce development services, we have enabled many eCommerce business owners to set up and run their WooCommerce stores successfully. Here is a blog that talks about building the best WooCommerce store with the Elementor tool. You can also search our blog page for any relevant WooCommerce-related information. These blogs will help you resolve your queries surrounding the operations and functionality of the WooCommerce platform.
Be it to create a single WordPress plugin or develop an entire website, we can help you out. Just drop us a message now.