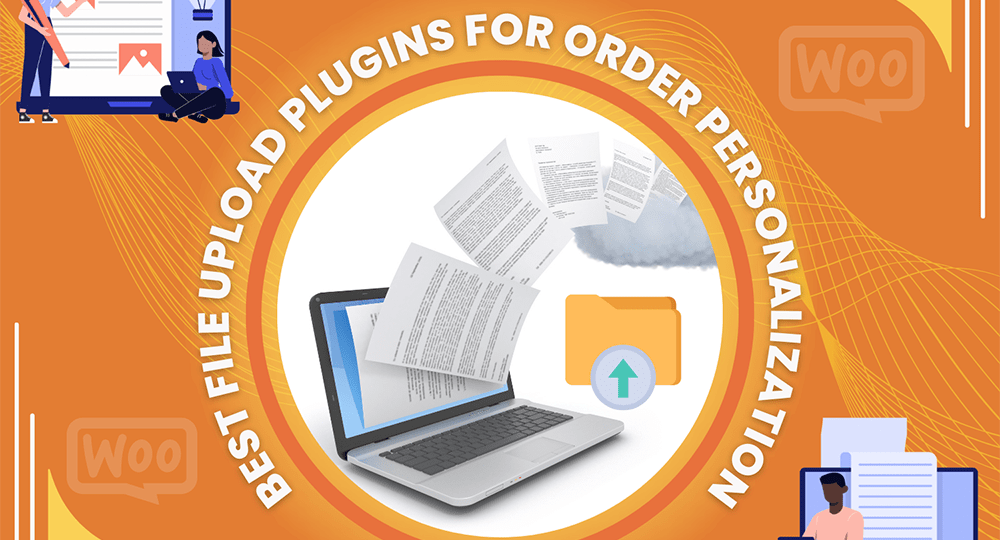 In this age of personalization, online shoppers love brands that enable them to personalize their purchased products. For example, people love T-shirts or mugs with their chosen image printed on them. In fact, 75% of customers appreciate brands with personalized offerings. Moreover, one in every five customers is even willing to pay 20% more for a personalized product.
One easy way to personalize orders on your WooCommerce site is to provide a WooCommerce file upload function during the online purchase of a product. Besides engaging with your customers, WooCommerce product personalization can also increase your order value.
So, how does the file upload facility benefit your WooCommerce business website and how can you enable it? Keep reading to know more.
Importance of File Upload Option For Woocommerce Users
An eCommerce business can greatly benefit by providing its consumers with the Upload File facility on WooCommerce sites. Here are some of the major advantages:
Improves the Shopping Experience

With the WooCommerce upload files facility, online shoppers can receive their ordered products with a personalized image of their choice. This enhances their shopping experience. This is particularly true when they want to gift their purchased product to a special friend or family member. With repeated purchases, you can build brand loyalty among customers.

Create Unique Products and Earn More Revenue

As mentioned before, online shoppers are willing to pay more for personalized products. On average, eCommerce brands can earn 4%-8% more revenue from them compared to non-personalized products. Besides, personalized products (with custom images) create unique products that stand apart from other similar products. It creates a feeling of belongingness among shoppers and encourages them to make more purchases.

Increase Customer Engagement

By enabling WooCommerce file upload on the product page, eCommerce brands encourage new customers to spend more time on their online store. Moreover, as engaged shoppers spend time personalizing their favorite products, it increases their probability of making "impulsive" purchases.

Differentiates your Brand from Competitors

As more eCommerce companies are emerging, the online shopping market is getting saturated and highly competitive. The customization option through file upload on WooCommerce can differentiate your brand and help you gain a competitive advantage.
How exactly do you go about adding the "File Upload" facility to your WooCommerce site? The simplest method is using a WooCommerce file upload plugin. Let's discuss that next.
7 Best WooCommerce File Upload plugins
A WordPress WooCommerce File Upload plugin offers the easiest way to create the "File Upload" facility for your eCommerce stores. Here are 7 of the best "File Upload" plugins for you to consider:
YITH WooCommerce Uploads

With the "YITH WooCommerce Uploads" WordPress plugin, you can easily enable your customers to purchase customized products. Your customers can attach and upload custom images (or files) during the buying process on your WooCommerce store.

Here are some of the leading features of this plugin:

Supports a range of file uploads including images, graphics, PDF files, and documents.
Allows customers to directly upload files when placing orders, thus eliminating the need to separately send customer emails for product personalization.
Enables consumers to preview the same product with different images or files.
Allows shoppers to link their entire order to their file attachments (instead of specific products).

Price: $59.99 yearly with a 30-day money-back guarantee.

WooCommerce Upload Files

The "WooCommerce Upload File" plugin is another file upload tool that enables consumers to make batch uploads (with unlimited images and file size).

This plugin has the following features:

Users can crop their uploaded images (width and height) using the "Crop Image Editor" tool.
It can charge customers an additional price, depending on the number of uploaded images.
Email notification feature to receive notifications whenever customers upload more images.
Additional features like uploads counter, upload progress bar, and WPML compatibility.

Price: $32 (for regular license) and $95 (for extended license)

WooCommerce Drag & Drop Uploader | Ajax File Upload

This user-friendly file upload plugin enables shoppers to directly upload their files for purchased products from the product page on your WooCommerce website.

The salient features of this plugin are as follows:

User-friendly interface that makes it easy even for beginners to upload and preview their images.
Intuitive drag-and-drop functionality to upload multiple images at the same time.
Apply different file upload settings for each product.

Price: $29 (for regular license) and $125 (for extended license)

All in One Files Upload for WooCommerce

The "All in One Files Upload for WooCommerce" plugin allows online shoppers to upload their images and instructions for personalized products.

Some features of this plugin include the following:

Supports multiple image formats for uploading, such as PNG, JPG, and SVG.
Customers can also upload specific instructions in the form of notes, queries, and clarifications for a specific order.
WooCommerce site administrators can configure settings like making image uploads compulsory (for selected products) or displaying the uploaded image on the shopper's checkout or shopping cart page.
Restrict the image size and type for different products.
Charge customers an additional price for personalized products.
Popup tooltip for collecting the user's information on the product page.

Price: $49 yearly

Customer Upload Files for WooCommerce

The "Customer Upload Files for WooCommerce" WordPress plugin allows shoppers to upload their files (or images) on multiple pages (including the product page, shopping cart, or checkout page).

These are the major features of this plugin:

Manage image upload facility with multiple rules, based on product category, product, or user roles.
Customizing the color and text of the image upload button.
Customer notifications about image approvals or disapproval.
Preview facility of the final product (with the uploaded image) along with the option to change the image.
Complete control over image type and size for selected products.

Price: $49 yearly

Checkout Files Upload for WooCommerce

With the "Checkout Files Upload for WooCommerce" plugin, customers can upload their custom files (or images) on their WooCommerce checkout page. Additionally, the website admin can provide the "File Upload" facility on the customer's account page and "Thank You" page.

Here are some of the leading features of this plugin:

Add a custom label to the File Upload field.
Configure specific image file types.
Validate the uploaded image dimensions.
Configure the maximum image size.
Enable AJAX facility for image file uploads.
Send uploaded images as attachments to the customer's email address.
Create custom messages like "No file selected" or "files uploaded successfully."

Price: Free

WooCommerce Product Add-ons Ultimate

The "WooCommerce Product Add-ons Ultimate" plugin is an efficient tool that can enhance the online shopping experience for shoppers in eCommerce stores.

The most prominent features of this plugin are as follows:

The Advanced WooCommerce Image Upload feature allows customers to upload their images in JPEG, PNG, and GIF formats.
AJAX-enabled drag-and-drop functionality simplifies the image upload process for customers.
Additional charges for each uploaded image, so eCommerce business owners can generate more revenue.
Bulk Upload feature that enables customers to upload their images in bulk.
Additional settings like setting the maximum file size, file types, and displaying thumbnails.

Price: $69 (for the Basic plan) and $119 (for the Pro plan) – along with a 14-day money-back guarantee
Conclusion
Product personalization is an effective mode of increasing customer engagement on WooCommerce websites. Through this blog, we have discussed 7 popular File Upload plugins for WooCommerce sites, which make it easy for shoppers to upload the images of their choice.
As a WordPress specialist, Flipper Code has facilitated its eCommerce customers with customized services in WooCommerce development. With our WooCommerce expertise, you can avail of a range of services including mobile responsive solutions, WooCommerce themes, customized shopping carts, and redesigning of the WooCommerce store. Here is how you can easily add an extra field to your WooCommerce checkout page.
Do you need to develop a new WooCommerce website or a plugin? We can help you out. Let's get started now.