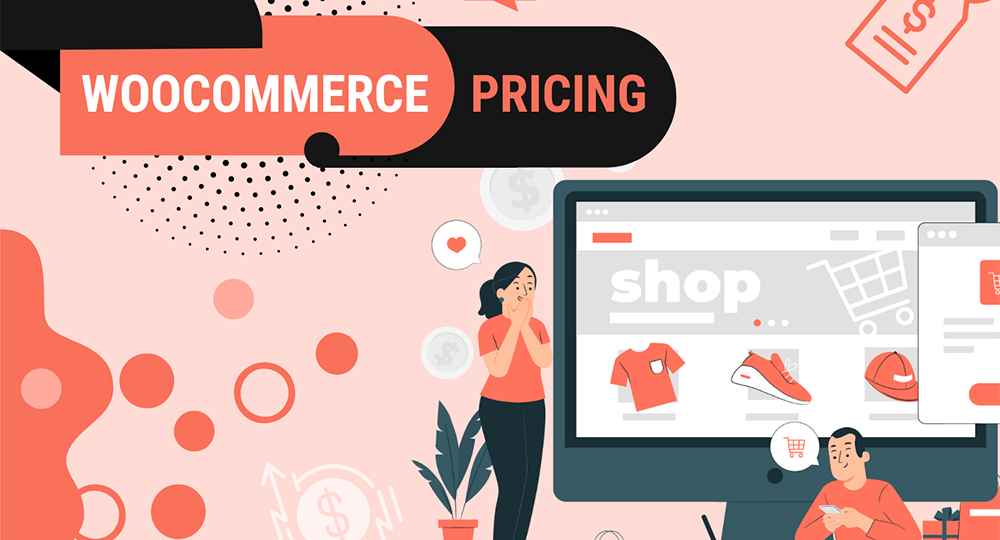 Planning to create your eCommerce store using WooCommerce? Do you know how much a WooCommerce store costs to develop? On its own, WooCommerce is a free and open-source tool, that does not cost even a single penny! However, you still need to incur a WooCommerce cost when it comes to running an operational eCommerce store.
Here is everything you need to know about WooCommerce pricing when launching a new online store.
WooCommerce Setup Costs – Hosting & Domain
Being a WordPress plugin, WooCommerce requires a WordPress site where it can be installed. Even though the WordPress CMS is free, you still need to purchase a domain address for your website. You will also require a WordPress hosting platform that can host your online store.
Domain registration (and renewals) and hosting plans are paid services, which you need to incur. While there are several free WordPress hosts (that can save you money), we recommend you opt for a paid hosting plan offered by companies like Bluehost, Kinsta, or SiteGround. These web hosting companies offer monthly plans ranging from $3.95 (for one website) to as high as $25 (up to 5 websites).
You can choose the best hosting plan based on the following factors:
Number of websites to be hosted
Quality of customer service
Security features
Website uptime
Speed and performance
Scalability
Besides the hosting cost of WooCommerce stores, you also need to pay for domain registration. This can cost around $15 a year. You can register your domain address from established providers like GoDaddy, Bluehost, and WP Engine.
WooCommerce Themes
WordPress has a host of beautiful themes designed specifically for WooCommerce stores. This can enhance the overall look of your WooCommerce store and attract more customers. The question is whether you should pay for these themes or opt for the free themes.
There are thousands of free WordPress themes available for WooCommerce websites. Similarly, a wide variety of paid WooCommerce themes are also there, costing anywhere between $20 and $100 yearly. For new WooCommerce sites, we recommend the official Storefront theme, which is simple and well-designed.
Most of the free themes available in the market are standard and do not differentiate your WooCommerce store from other online stores. On the other hand, paid themes are backed by regular updates and customer service. If you still want to opt for a free theme, make sure it is backed by an established theme development company (or an experienced theme developer).
What about costs incurred in product shipping and payment gateways? Let's discuss that in the next section.
WooCommerce Store Management
For any WooCommerce store, there are essential functions like shipping costs and payment gateways, which need to be maintained. Some of these functions and the costs involved are described as follows:
Online Shipping

By default, WooCommerce offers three shipping options, namely, free shipping, flat rate shipping, and local store pickups. With the WooCommerce shipping extension, you can avail of free shipping (at zero additional costs) built into the WooCommerce plugin. You can also print your shipping labels from your WooCommerce dashboard and save extra costs.

If you are looking for advanced shipping tools, we recommend the following tools:

Table Rate Shipping (priced at $99)
ShipStation Integration (priced at $9 monthly)
Distance Rate Shipping (priced at $79)

To better plan for your shipping needs, read this blog to know how you can calculate the WooCommerce shipping costs.

Payment Gateways

For running any WooCommerce store, you need to configure payment gateways where you can receive your online payments safely and securely. The most affordable payment gateway available is WooCommerce Payments, where you can manage your payments from the WordPress dashboard. Here is why WooCommerce Payments is the best option:

No monthly fees or setup costs
A fee of 2.9% (plus $0.30) on each successful payment transaction.
Instant payment deposit to your configured account (within 30 minutes)

Another efficient payment gateway is PayPal – where you don't need to pay a monthly charge for the basic plan. Additional options include Stripe and Authorize.net. Here is a detailed comparison of all WooCommerce payment gateways.
Besides payment gateways and shipping costs, eCommerce business owners also need to take care of their running costs. Let's discuss that in the next section.
WooCommerce Running Costs
Apart from the store-related costs, WooCommerce-powered websites incur additional running costs, which include the following:
Customer communications
SEO management
Website security
Although these expenses are not mandatory, eCommerce business owners cannot afford to overlook these areas if they want to succeed in their online business. Here is a detailed look at each of these running costs:
Customer Communication

Thanks to email marketing, eCommerce companies can reach out to their existing customers and prospective leads. The good part is WooCommerce plugin is already integrated with email marketing tools like MailChimp and Jilt. However, you still need to pay for these external tools. MailChimp plans start from around $9.99 a month, while Jilt plans start from $29 a month.

SEO Tools

To increase your incoming traffic, you also need to invest in popular SEO tools like Yoast and All in One SEO. Both are available with free and paid plans.

WordPress Security

A hacked WooCommerce store can damage your business reputation and cause you to lose customers. Business owners can no longer afford their WooCommerce sites to go down even for a few hours. Hence, you need to invest in WordPress security tools like Sucuri or MalCare. These WordPress security plugins offer a range of security features like in-built firewall protection, instant malware detection, two-factor authentication, and security updates.

While Sucuri plans start from $300 yearly, MalCare's paid plans start from $99 yearly. We also recommend the popular Jetpack plugin with security-related functions like protection from brute force attacks and real-time backups. Costing around $99 yearly, Jetpack offers a host of built-in tools including website management, performance checks, and website designing.
To increase your website's security factor, Google also recommends installing an SSL certificate, which moves your website from HTTP:// to HTTPS:// (or secure HTTP) protocol. This is deemed necessary to encrypt sensitive information like credit card details and payment information. You can get your website SSL-certified by your current web hosting company. If not, then you need to install a third-party SSL certificate that can cost between $8 to $65 a year.
If you have an additional budget, you can think of elevating the customer experience for your WooCommerce store. Let's discuss that in the next section.
Enhancing the Customer Experience (CX)
eCommerce companies need to enhance their customer experience (CX) by upgrading their website regularly. Here are some of the ways you can improve CX with a host of free and paid solutions:
Customizing the WooCommerce login and registration pages.
WordPress giveaway plugins to boost conversions.
Engaging online customers through live chats.
Customizing the checkout page on the WooCommerce store.
Customizing the product search functionality and site navigation.
However, remember that more number of plugins and enhancements may cause your website to load slowly. Hence, you must be wary about installing too many plugins.
Without a WordPress developer, you cannot hope to get your WooCommerce site up and running in a quick time. Let's look at their hiring costs in the next section.
Hiring a WordPress Developer
In addition to incurring WordPress plugin costs, you need to reserve some portion of your budget for hiring an experienced WordPress developer (or even a small development team). WordPress developers can not only create an operational website quickly but also take care of its regular maintenance and upgrades.
Depending on the years of experience, WordPress developers can charge anywhere between $30 to $175 (or more) for every hour of work. Freelance WordPress developers also charge between $15 to $28 for an hour of work.
Customizing your WooCommerce Store – and Budget
What does a WooCommerce site cost to customize? There are multiple options to customize your WooCommerce site. Your choice completely depends on your available budget. If you are working on a tight budget, you can get started by investing in a domain address and web hosting plan. This should work out to as low as $135 for a year.
With additional customization, you can create a unique website with running costs of around $1000.
Conclusion
In this blog, we have looked at the various WooCommerce price factors and how much it costs to set up and operate a successful eCommerce website.
As a team of WordPress experts, Flipper Code can help in quickly setting up your online store with its WooCommerce development services. Our customized solutions will help you develop your online WooCommerce store without making a heavy investment. Some of the services we offer include integrating payment gateways, customizing your plugins and themes, and much more!
Do you need our professional expertise in developing a complete WooCommerce site or a single plugin? Drop us a message with your business details.